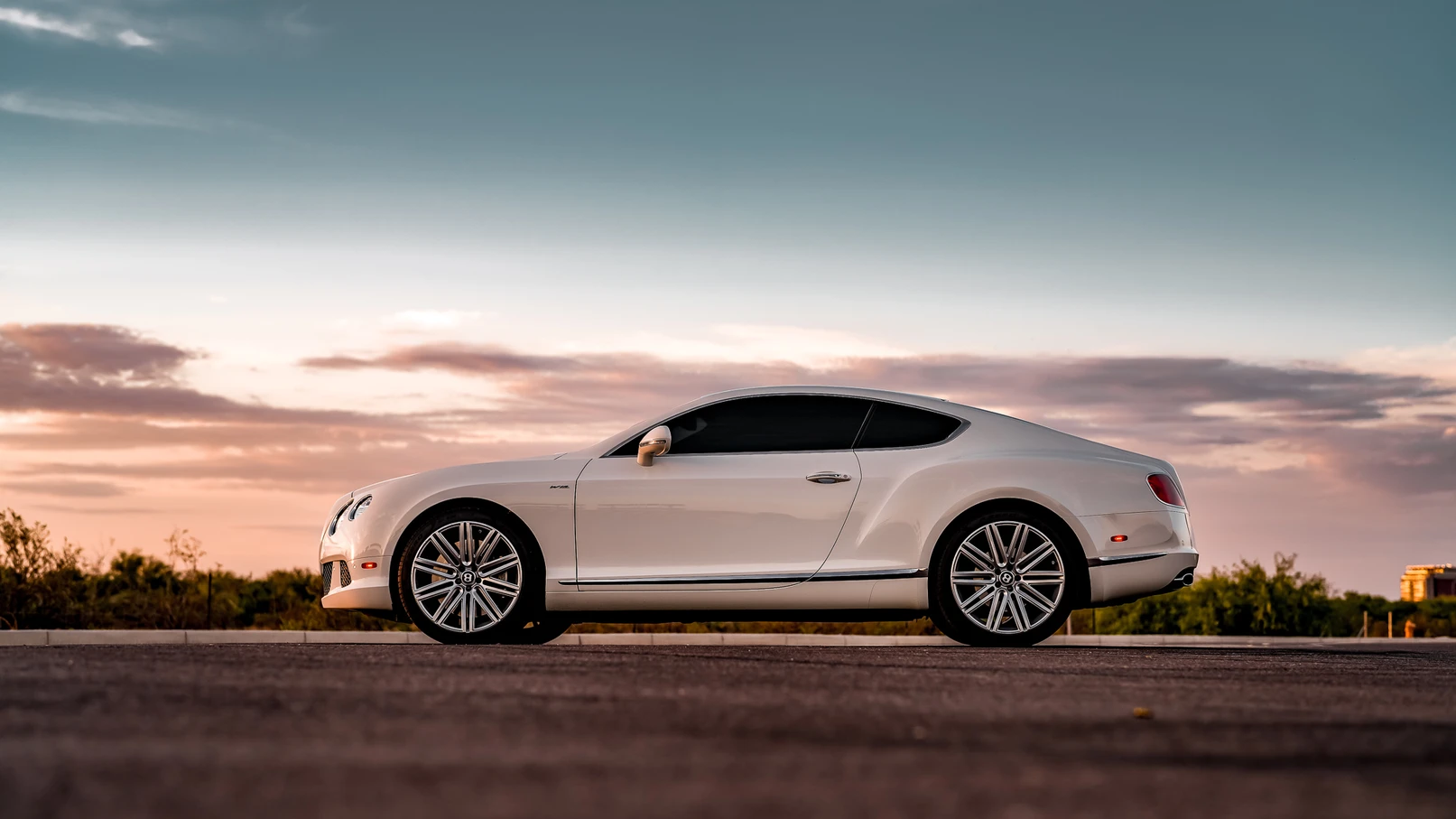 Review: BENTLEY CONTINENTAL GT SPEED
Buckle up and hold on tight, because we're about to take a ride through the world of… luxury car rentals! That's right, today we're talking about how to make your next road trip a little more exciting (and a lot more stylish) with the help of Fusion Rental.
There's no doubt that the automotive industry is constantly evolving, with new cars being released every year that offer unparalleled levels of comfort, performance, and style. One such car that stands out from the crowd is the Bentley Continental GT Speed – a grand tourer that exudes elegance and power. And now, thanks to Fusion Rental, you can experience this incredible car for yourself. As the premier rental company in the valley, Fusion Rental is proud to offer the Bentley Continental GT Speed as part of its exclusive fleet. Whether you're looking for a car for a special occasion or simply want to treat yourself to a luxury ride, the Bentley Continental GT Speed is the perfect choice. So buckle up, and get ready to experience the ultimate in automotive luxury.
The 2013 Bentley Continental GT Speed
The 2013 Bentley Continental GT Speed is a powerful and luxurious grand tourer that's been designed to offer an unrivaled driving experience. Here's a review of some of the key features that make this car so special:
Technical Specs:
Under the hood, the 2013 Bentley Continental GT Speed is powered by a monstrous 6.0-liter twin-turbo W12 engine that delivers an impressive 616 horsepower and 590 lb-ft of torque. The car is capable of accelerating from 0-60 mph in just 4 seconds and has a top speed of 205 mph. It also features an 8-speed automatic transmission that shifts smoothly and seamlessly.
Interior Design:
The interior of the Bentley Continental GT Speed is a luxurious and refined space, with high-quality materials and exquisite attention to detail. The cabin is spacious and comfortable, with plenty of room for both driver and passengers. The seats are upholstered in soft leather and feature heating and cooling functions, while the dashboard and door panels are finished with polished wood veneers. The car also boasts a state-of-the-art infotainment system with a large touchscreen display, navigation, and a premium sound system.
Exterior Design:
The exterior of the Bentley Continental GT Speed is an elegant and imposing design, with a distinctive front grille and sleek, aerodynamic lines. The car sits low to the ground and features large 21-inch alloy wheels, giving it a sporty and muscular stance. The body is available in a range of colors, including classic shades like Beluga and Glacier White, as well as more contemporary colors like Kingfisher Blue and Orange Flame.
Performance Specs:
In terms of performance, the Bentley Continental GT Speed is a true powerhouse. The car's W12 engine delivers an astonishing amount of power and torque, allowing it to accelerate quickly and reach high speeds with ease. The car's suspension and handling have also been fine-tuned to provide a smooth and responsive driving experience, whether you're cruising on the highway or taking on winding mountain roads.
Technology:
The 2013 Bentley Continental GT Speed comes loaded with advanced technology features, including a touchscreen infotainment system, satellite navigation, Bluetooth connectivity, and a premium sound system. The car also features a number of advanced safety features, such as adaptive cruise control, lane departure warning, and automatic emergency braking.
Overall, the 2013 Bentley Continental GT Speed is a truly exceptional car, offering unparalleled luxury, performance, and technology. Whether you're a car enthusiast or simply looking for a stylish and comfortable grand tourer, the GT Speed is sure to impress.
If you're planning a trip to Arizona and looking for the ultimate luxury car rental experience, look no further than Fusion Rental. With an impressive fleet of high-end vehicles, including the iconic Bentley Continental GT Speed, we offer white-glove service that is simply unmatched. From the moment you step into one of our cars, you'll feel the difference – from the high-quality materials to the state-of-the-art technology.
If you're looking to truly indulge, our chauffeur service is available on all of our models, allowing you to sit back, relax, and enjoy the ride. Don't settle for an ordinary rental car – experience the best that Arizona has to offer with Fusion Rental. Contact us today or visit our website to reserve your dream car and get ready for an unforgettable experience.