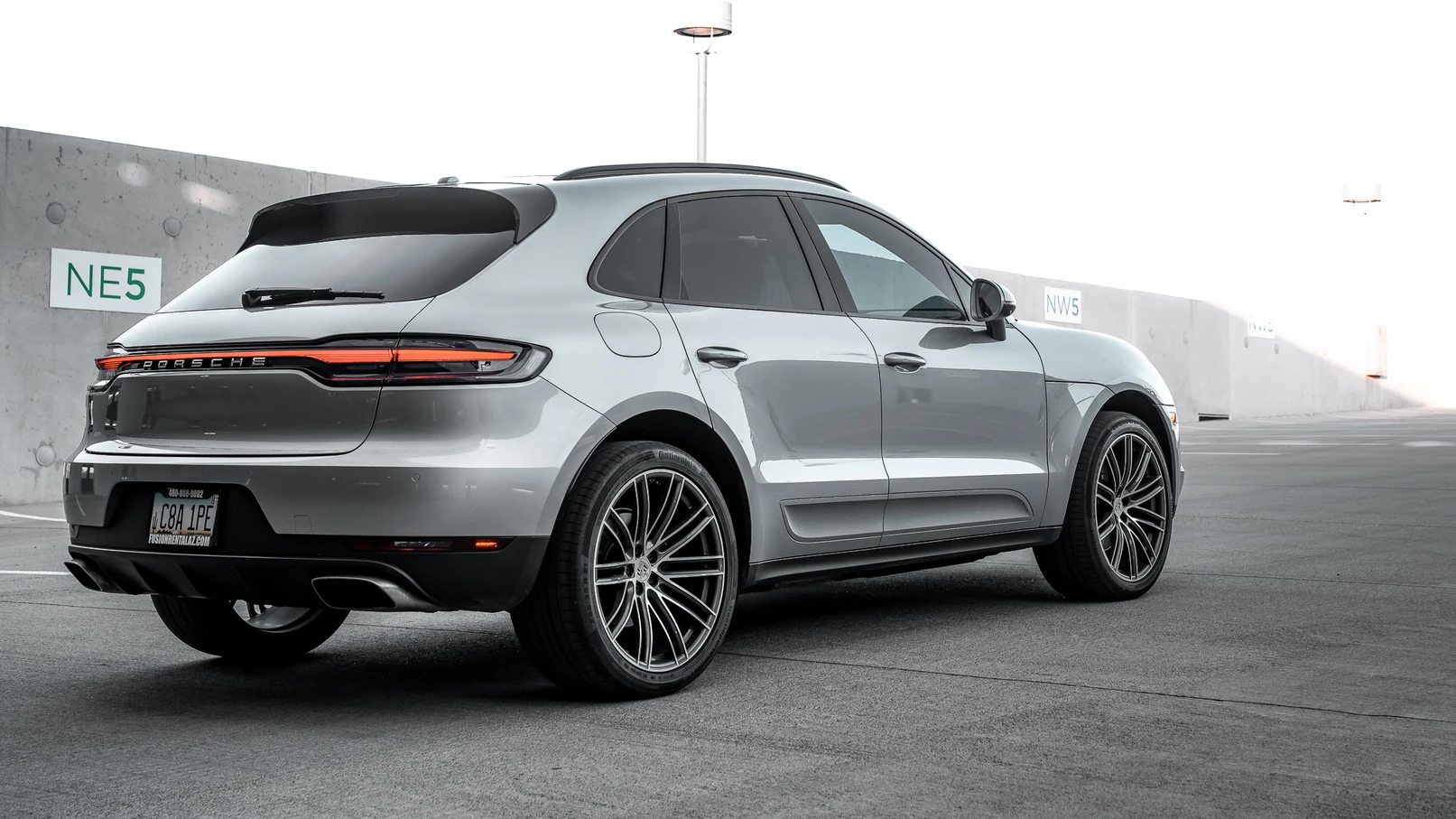 2019 Porsche Macan S
Rev your engines, because we're about to take a deep dive into one of the most exciting luxury cars on the market – the Porsche Macan S 2019. And the best part? You don't have to be a millionaire to experience the thrill of driving this stunning car, thanks to Fusion Rental's exclusive fleet of high-end vehicles.
Take your driving experience to the next level, because the Porsche Macan S 2019 is now available for rent at Fusion Rental. As the premier rental company in the valley, Fusion Rental is proud to offer this high-performance luxury SUV to those who want to experience the thrill of driving a Porsche without the commitment of ownership.



The 2019 Porsche Macan S
The 2019 Porsche Macan S is a compact luxury SUV that combines sleek design with thrilling performance. Here's a closer look at some of the key features that make this car a standout:
Technical Specs:
Under the hood, the 2019 Porsche Macan S is powered by a 3.0-liter V6 engine that delivers 348 horsepower and 354 lb-ft of torque. The car is capable of accelerating from 0-60 mph in just 5.1 seconds and has a top speed of 157 mph. It also features a 7-speed PDK automatic transmission that provides smooth and lightning-fast shifts.
Interior Design:
The interior of the Porsche Macan S is a refined and luxurious space, with high-quality materials and meticulous attention to detail. The cabin is spacious and comfortable, with supportive seats and ample legroom for both driver and passengers. The dashboard and center console are well-organized and feature intuitive controls, while the leather upholstery and premium accents add a touch of elegance to the space.
Exterior Design: The exterior of the Porsche Macan S is a sleek and modern design, with a distinctive front grille and sloping roofline. The car sits low to the ground and features sporty 20-inch alloy wheels, giving it an athletic and aggressive stance. The body is available in a range of colors, including classic shades like black and white, as well as bold colors like Miami Blue and Mamba Green Metallic.
Performance Specs:
In terms of performance, the Porsche Macan S is a true driver's car. The car's V6 engine delivers quick and responsive acceleration, while the sport-tuned suspension and precise steering provide a thrilling and engaging driving experience. The car also features all-wheel drive and an advanced traction management system, ensuring that it performs well in all types of weather and road conditions.
Technology:
The 2019 Porsche Macan S is loaded with advanced technology features, including a 10.9-inch touchscreen infotainment system, Apple CarPlay, and a premium sound system. The car also features a suite of advanced safety features, such as adaptive cruise control, lane departure warning, and automatic emergency braking.
Overall, the 2019 Porsche Macan S is a standout luxury SUV that offers a winning combination of performance, comfort, and technology. Whether you're looking for a car for daily commuting or weekend adventures, the Macan S is sure to impress.
Don't settle for an ordinary car rental during your next trip to Arizona. With Fusion Rental, you can experience the thrill of driving a high-performance luxury SUV like the Porsche Macan S 2019. Our white glove service is unrivaled, ensuring that your rental experience is nothing short of exceptional. And if you want to sit back and relax, our chauffeur service is available on all models. So what are you waiting for? Visit Fusion Rental's website or give us a call today to reserve your Porsche Macan S and elevate your driving experience in Arizona.
PORSCHE MACAN S 2019
PORSCHE MACAN S 2019
The 2019 Macan is the one of the most fun Porsche SUV's to drive. Sounds great and looks great! This is a low mileage vehicle with gorgeous red interior, and very well maintained inside and out!